Word Chums Cheat
Synopsis of the Game
Similar to Scrabble and Words with Friends, Word Chums is a popular word game that is quite fascinating in its own rights. So much so that it continues to increase in popularity and attract huge communities of passionate players.
In this game, players form words on a game board using letter tiles like with any other word game. However, one of the unique features of Word Chums is the ability to play with friends in real-time or asynchronously. This means that players can take their time to create the best possible words without the pressure of a real-time game.
Another unique feature of Word Chums is the Chum Bonus. This bonus allows players to earn extra points by playing with friends, making the game even more enjoyable and rewarding.
Our Word Chums cheat tool helps you improve your gameplay by getting you out of sticky situations.
Word Chums vs. Scrabble: What's the Difference?
While Word Chums and Scrabble are both word games similar in a few aspects, there are crucial differences between the two.
Board Layout: Firstly, the board layout in Word Chums is different from the one in Scrabble. While Word Chums features a hexagonal board, Scrabble has a square board. This greatly influences the difference in strategy and gameplay.

Scoring System: The scoring system in Word Chums is slightly different from the one in Scrabble. While Word Chums awards bonus points for playing with friends, Scrabble awards its own bonus through a set of bonus squares on the board.

Tile Distribution: Another key area of distinction between both games is in their tile distribution. The distribution of tiles in Word Chums is different from the one in Scrabble because Word Chums has more vowels than Scrabble. This, of course, makes it easier to create words in the former than in the latter.

Dictionary: Lastly, the dictionary used in Word Chums is different from the one used in Scrabble. This means that some words that are valid in one game may not be valid in the other. Our Word Chums cheat tool can help you get familiar with the Word Chums dictionary.

While there are some differences between Word Chums and Scrabble, both games are enjoyable and challenging in their own ways.
Power-Ups and Bonuses: An Overview of Word Chums' Unique Features
One of the things that sets Word Chums apart from other word games is the inclusion of power-ups and bonuses. These features are priceless for players who have become adept at the game, seeing as they can help players score big points and gain an edge over their opponents.
Some of the power-ups you might encounter in Word Chums include:
Freeze - a power-up feature that players can use to stop the clock for a brief period of time.

Scramble - this is used to shuffle the tiles on the board to give players a new perspective on the available words.

Special Times & Milestones - Additionally, a player can earn bonuses by creating words with special tiles or by achieving certain milestones in the game.

All of these features play a great part in defining the experience players get from playing Word Chums.
Word Chums Tips & Tricks
To succeed at Word Chums, it is essential to have a strong vocabulary and a knowledge of how to use your tiles effectively. Like with most word games, general tips and tricks such as making use of prefixes and suffixes, playing high-scoring letters like Q, Z, and X, and so on, all apply in Word Chums.
Another common trick is to be ready to take advantage of bonus squares. Just as it is in Scrabble, Word Chums has bonus squares that can help you earn more points. Playing only double and triple letter and word squares on the board can massively swing games in your favor.
Lastly, don't be afraid to exchange tiles. For instance, if you happen to have a set of tiles that you can't use, don't be afraid to exchange them for new ones. However, be strategic with your tile exchanges, and try to keep a balance of vowels and consonants.
By following these tips and tricks, you can improve your Word Chums gameplay and increase your chances of winning.
How to Use Word Chums' Word-O-Meter to Your Advantage
Another very unique feature of Word Chums' is the game's Word-O-Meter.
Word Chums' Word-O-Meter is a tool that can be incredibly helpful for players who are struggling to find words on the game board. Essentially, the Word-O-Meter allows players to input the letters they have available and then generates a list of potential words that can be formed using those tiles.
While it's important to note that the Word-O-Meter doesn't always provide the highest-scoring words, it can still be a useful resource when you're stuck and need a little extra help.
And of course, if the Word-O-Meter doesn't quite fulfill your needs at that moment, or is only giving you what you need, you can always make use of our Word Chums cheat tool to get that much-needed edge over your opponents.
An example of the best word found using project LEXICON: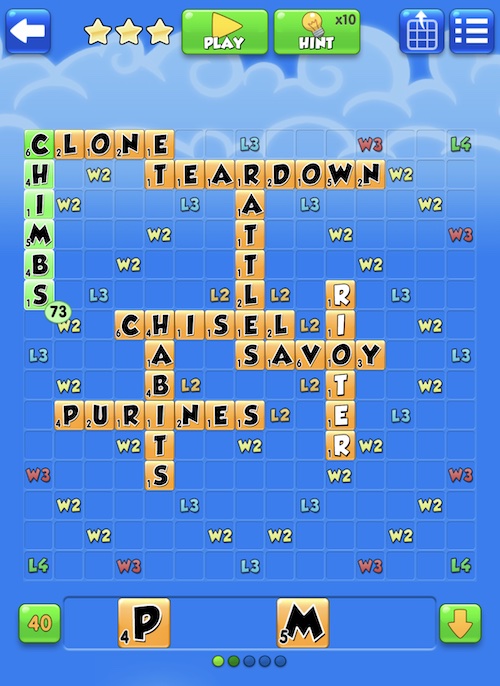 Word Chums' Multiplayer Modes
Another very interesting aspect of playingWord Chums is that the game offers a variety of multiplayer modes that allow players to challenge friends or compete against strangers from all around the world.
This has seen the game increase in popularity all around the world as players from genuine friendship through gameplay. Of course, it is also possible to get better in this particular variation through a handful of tips and tricks.
First of all, Word Chums' Multiplayer mode can be played through a quick game of Chums Rush or the more strategic game of Word Duel.
Regardless of which variety you happen to be playing, the following few tips should help you succeed and become a better player.
Shorter Words Early - One important strategy for multiplayer modes is to focus on shorter words early in the game, as they can help you gain control of the board and limit your opponent's options. It's also important to pay attention to the available bonus tiles and power-ups, as they can be key to securing a victory in many cases.

Take your Time - Additionally, don't be afraid to take your time and think through your moves carefully - rushing through your turn can lead to mistakes and missed opportunities.

These may seem like simple tips, but you'd be surprised how important they usually turn out to be.